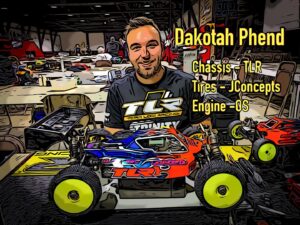 TLR's top dog for many years Dakotah Phend has been stunning racers since he was a knee high to a grasshopper.
Dubbed the Phenom in his early years, Phend is phenomenally talented. At only a young 24 years old Phend is a veteran in our sport first touching a control at the age of 7.
2021 has seen ups and downs for the Michigan native. Phend has shown incredible speed but at a cost in consistency. At DNC he Tqed all 3 classes. Unfortunately for him a nitro buggy victory would not happen with a disappointing 12th after the 45 min A main.
5th at PNB was promising and Phend went into Silver State, a race he should have won in 2019 with some confidence. This would be the race Phend would want to forget with a very disappointing 19th place and not making the big show at a race that Phend needed a good result or win.
Dakotah attended the Nats Warm Up and won it but as we know warm-ups don't count or do they?
Phend needs a big nitro victory so he can shed the image of being "fast for 5 mins" and the term"Phended" as it is coined after Phend for his inconsistency during the long nitro mains.
Phend has all the resources of TLR and JConcepts behind him. Also he is considered one of the fastest, most naturally talented racers in the world.
Can the Phenom fulfill the prophecy and become the 2021 National Champion?