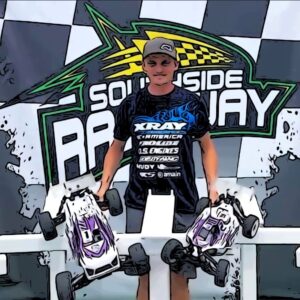 Ty Tessman – Canada
Can Ty Tessman become the first 5 X ROAR National Champion this year?
Ty won his first National titles in buggy and truck at
LCRC Raceway
back in 2012 will 2021 by the year the 2014 World Champion breaks the current record ? Tessman currently has 4 Buggy and Truggy Nationals title the only other driver with 4 titles is Ryan Maifield with 4 truggy championships. Ty is also the only other winner in the 4 big races held this year by dominating at the PNB in April. Unfortunately for Ty he was unable to attend the SILVERSTATE race due to Covid regulations and this has hurt him in the NNRC Cup Standings. Time will tell as The ROAR Fuel Nationals starts next week. Who will come out on top for the race dubbed The Dream Shatterer by many. Which driver will sample the Glory and who will see their Nationals win snatched away from them………. Will we see one of the young lions challenge the veterans and stamp their name in RC history?
We will all find out in less than 2 weeks bring on the Nationals and all the excitement,race drama & real speed that will be on exhibit at this epic event.
The ROAR Nationals starts next Thursday let's get ready for the Glory!!!!